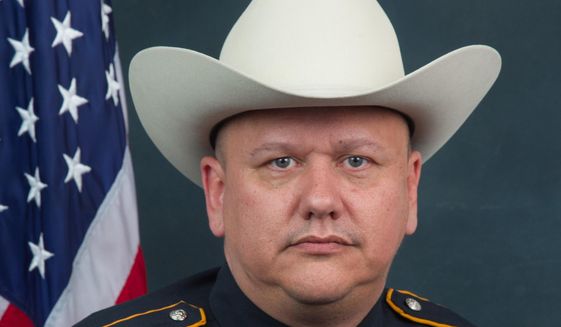 Deputy Darren Goforth was brutally shot down while pumping gas in northwest Houston on the night of August 28th. He was shot for no apparent reason. Deputy Goforth leaves behind a wife and two young children.
It's a terrible senseless tragedy that is hard to fathom. However, something beautiful did come out of this tragedy. Thousands upon thousands of people have come forth to show support for law enforcement officers who put their lives on the line daily for us. They have gotten such a bad wrap in the media lately.

A local printing company Inkdots Printing in Cypress, Texas, made the signs above and gave them out for free. Houstonians waited in line to get these bracelets from local law enforcement in downtown Houston as well.
School districts had their district officers come together with lights flashing and stand in a moment of silence to honor Deputy Goforth. Citizens led a march in honor of Deputy Goforth to promote love of all people and to remind us that ALL lives matter.
Our community and people all over the United States have come together to back our law enforcement officers and to thank them for their duty. There is a new awareness, or maybe just a reminder of how difficult their jobs really are. They deal with the most difficult people in society on a daily basis. No wonder they can sometimes be cranky! They need our love and support.
This incident brought about a much needed reminder for many folks. It's awful that this tragedy is what had to bring about this reminder, but thankfully Deputy Goforth's death was not just brushed under the rug and forgotten.
"What does this have to do with health?" you might ask. According to this article on the Association for Psychological Science site, research has shown that connecting with others in a meaningful way helps us enjoy better mental and physical health and speeds up recovery from disease and has shown that it may even lengthen our life spans.
Love conquers evil. Let us all go out and thank an officer today for their service and protection.